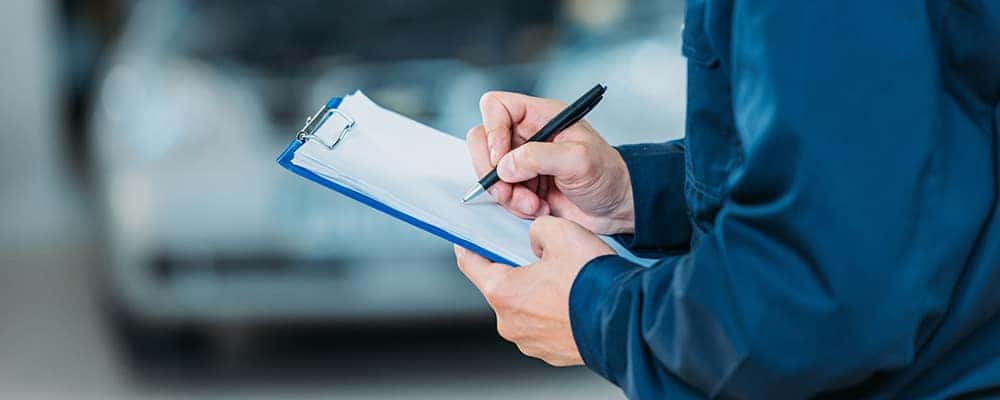 Whether you drive new or used, "When do I service my BMW?" is bound to be one of the biggest questions on your mind–and it should be. You'll bring your model in for service once or twice a year, or roughly once every 5,000 miles. The BMW Maintenance Schedule has been designed to keep your vehicle at its best, no matter how many years you spend on the roads near Philadelphia.
How much is maintenance on a BMW? Where can you schedule service near Philadelphia? BMW of Turnersville is ready to assist with any and all of your BMW recommended maintenance needs—and we've got the answers you're looking for below. Find out exactly what to expect, give us a call at Call service Phone Number(855) 708-7748 if you have any lingering questions, and make your appointment today.
BMW Preventative Maintenance: Every 5,000 Miles
The current BMW maintenance schedule is based on a standard 5,000-mile interval, although a Condition Based Service monitor will track key areas and alert you if other services are required. Routine BMW recommended maintenance includes:
Vehicle check and inspection
Brake fluid check
Coolant check
Engine oil check
Front and rear brake inspection
Inspection of engine and cabin air filters
Standard scope
Wiper blade inspection
Not all checked components will be replaced during your visit. With assistance from your Condition-Based Service monitor, our trained and certified BMW maintenance experts will be able to determine exactly what needs to be replaced, and when.
Interested in a more convenient visit? We offer BMW FASTSERVICE® for a wide range of common requirements.
BMW Recommended Maintenance Services
Certain BMW maintenance intervals will vary in frequency depending on your model and on how you drive, so you should always check your owner's manual to be certain. Here's what you can expect:
BMW 10,000-Mile Maintenance
Replace engine oil, oil filter, and coolant
Repeat every 10,000 miles
BMW 20,000-Mile Maintenance
Inspect and replace fuel filters
Repeat every 20,000 miles
BMW 30,000-Mile Maintenance
Replace brake fluid
After first replacement, brake fluid can be replaced at 60,000 mile intervals
If manual transmission: replace transmission fluid every 30,000 miles
BMW 60,000-Mile Maintenance
Replace engine air filter and spark plugs
Inspect and replace brake pads and brake rotors as necessary
Repeat every 60,000 miles
If you have an automatic transmission, replace transmission fluid every 60,000 miles
BMW 90,000-Mile Maintenance
Replace timing belt and hoses
Repeat every 90,000 miles
BMW Maintenance After 90,000 Miles
Continue to schedule BMW preventative maintenance every 5,000 miles
Follow BMW maintenance intervals as listed above
A Note on BMW 50,000-Mile Maintenance: No special maintenance items are required at 50,000 miles (aside from those normally performed at 5,000 or 10,000 miles). However, after four years or 50,000 miles, your New Vehicle Limited Warranty will expire. If you need BMW repairs on covered parts, take care of them in advance at an authorized BMW center. Keep in mind that your battery may also be due for replacement around this time.
How Much is Maintenance on a BMW?
Your BMW scheduled maintenance costs will vary depending on the items being covered that day. Basic 5,000- and 10,000-mile BMW maintenance costs will usually vary between $150 and $400, while more extensive visits may come in at closer to $1,000. Explore our guide to BMW X5 maintenance costs to learn more about caring for one of our most popular models—but remember that actual requirements may vary depending on your model, model year, and even trim level! If you're looking for a price on a particular service item, give us a call at  Call service Phone Number(855) 708-7748 today.
If you are the current owner of a BMW, carefree maintenance is possible! All new BMW vehicles come with three years or 36,000 miles of BMW Ultimate Care, designed to keep your BMW maintenance costs as low as possible over the first few years. This BMW maintenance program covers core services according to the guidelines laid out in your owner's manual.
Take Care of BMW Recommended Maintenance Today
How much is maintenance on a BMW if you schedule service today? Before you drive in from Sewell or Williamstown, contact us online or call us at (855) 708-7748 for our most up-to-date pricing. Just don't forget to explore our BMW maintenance specials and our Value Service opportunities, too.